Erase your Sales tension – with these SIX Lead Management Tips
Sales agents are accountable for specific metrics. If they consistently do not meet them, they are shown the door. Knowing this, it becomes essential that sales agents handle the leads very carefully. A slight mistake in managing leads can take away the sales opportunity out of their hands.
So how should sales managers go about lead management? Consider these six best practices for Lead Management below: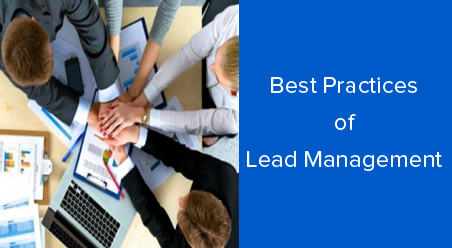 1. Buyer Identification
Collaborate with the marketing team to identify the ideal buyer profile. Build a criteria that includes the following factors:
Demographics: Geographic location
Behavioral Information: Web page visits and response to marketing collaterals (eBooks and whitepapers)
Lead Source
Company Size and Industry.
This practice will ensure that both sales and marketing teams have a unified idea of the ideal buyer and do not waste their energy on targeting 'junk' people.?
2. Lead Nurturing
On an average:
25% of leads are sales-ready
35% of leads are futile
Remaining 40% leads lie somewhere in between. What do you do with these?
Interact with them constantly through e-mail, phone, social media, and other online and offline channels. Share informative content and not direct sales pitches.
Reason: These leads are still in the research phase and are evaluating different options. Instead of being too pushy by directly promoting your products/services – help them in doing the research. Share best practices and statistics with them. This will be a great way to build relationships with prospects and accurately understand their needs. Prospects will look upon you not as a sales agent but a thought leader. They will certainly include you in the decision-making process.
3. Lead Scoring
Use a sales and marketing CRM that offers lead scoring functionality. This scoring and grading system will help you decide which leads should get followed up with, and which should not. That means – end to those days when you had to:
Sift through mounds of leads
Study their details and previous conversations
Select the best ones to contact for sales.
You will get the advantage of only pushing the 'hot' leads towards the final purchase. Got bubbled up with joy reading this?
4. Background Study
According to Marketing Tech Stop: 36% leads drop out mid-way because they get badly transferred from marketing to sales agents. To ensure a seamless hand-off from marketing to sales – stress upon doing some R&D.
Do not blankly call up the lead that has been tossed over the fence to you. Use the CRM to get a 360-degree view of the lead. Read through all the details and the previous conversations happened with the marketing agent.
This will give you an exact idea of:
Which marketing activities has the prospect responded to?
Which product/service is the prospect most likely to purchase?
Accordingly prepare a tailored pitch that starts exactly from where the marketing agent left last. In this way, the prospect will not feel the bump from marketing to sales.
5. Timely Follow up
The most successful way to make sales is through a timely follow up. Why? Because:
Harvard Business Review states – sales agents that contact leads promptly are 7 times more likely to make the sale.
Inside Sales states – sales agents who delay in follow up are 10 times less likely to have success with the lead.
In short, when you are quick and agile in contacting the prospect, the likelihood of conversion goes up. Way up.
Tip: CRM software notifies sales agents when leads get assigned to them. So use CRM to do immediate follow ups, and stop prospects from slipping to your competitors.
6. Lead Recycling
Even if you only work on hot leads – there are chances that you will not always experience a 100% conversion rate. However, instead of letting the non-converted leads slip away and get picked up by a competitor – recycle them back into your database. Re-nurture these leads with engaging and supporting content. These contents can include eBooks and whitepapers that can be mailed through the CRM in form of email campaigns.
Benefit: You will stay on top of the mind of your non-converted leads. Eventually when they plan to make the purchase – your company name will always pop up first in their minds.
Final Thoughts
Lead Management is one of the crucial determining factors of sales success. Hence, it is important that sales agents get a proper lead management system off the ground. By implementing the above-mentioned steps, sales agents can smoothly move the leads to the bottom of the funnel, without any hiccups.
But then, these are my personal favorite lead management tips for sales agents. There are many more present. Do you have any that you would like to add to the list? Share your points below -
Patricia is a full-time CRM consultant at ConvergeHub and part-time blogger. She has earned herself quite a fame as a specialist and a market expert in small business CRM software platforms. In the last five years, she has worked with various entrepreneurs to help them move their businesses to cloud. Her expertise lies in offering cloud based...