Small Business & Startup: How to become the #1 in delivering Customer Service?
We are living in the customer era. Social platforms and online forums have put the power flatly in consumers' hands. Today, the consumers have the potential to reach a network of millions, from a single comment/tweet. And just in case you think that very few of your customers are active on social media, think again!
Recent Survey states:
Approximately 80% of people own a smartphone and are actively involved in social media throughout the day. Out of these 80%, 90% of consumers decide their purchases based on social media recommendations.
Looking at these alarming facts, it can be well estimated how crucial has the social revolution become!
Multiple examples can be cited where negative social tweets and comments have done irreversible damage to the most renowned businesses. As a result, it has become imperative for every single business to be on its toes when it comes to catering to the customers.
But how is this all possible?
While large enterprises have the bandwidth to deliver a 24/7 service, what about the businesses who are still at the infant stage? Are there ways for small businesses and startups to deliver a stellar proactive customer service?
There are thousands of customer service tips available on the web, but most of them are complicated.
Here are five easy ways to deliver excellent customer service and stand out from the crowd: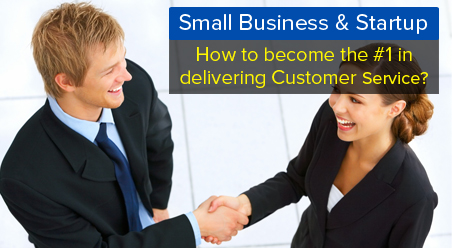 1. Respond ASAP to the customers
This is the GOLDEN RULE of good customer service. According to a Forbes study - 71% of customers get angry and feel dissatisfied, because businesses fail to respond fast enough to their queries. So if you want to win brownie points from your customers – make 'speed' the base of your customer service strategy. Invest in a cloud CRM software to score, track and respond to customer inquiries quickly. And the benefit of delivering a speedy customer service is great!!!
Harvard Business Study states that businesses who cater to their customers on-time, successfully bridge the gap between customer expectations and their current performance.
2. Listen to their voices
Best customer service happens when customers are given the opportunity to voice out their opinions completely. So train your sales, marketing and customer service agents to spend 80% of the time listening and not talking. Include more open-ended questions in conversations with your customers.
Note down the main pointers of the conversations in the CRM. Analyze it with your team to identify what customers are seeking from your business. Use the mindset and perception of your customers to plan out the entire customer journey. This way, you will never be wrong in your customer service approach!
3. Show the Appreciation
Like it or not: we all have become obsessed with the term 'profit'. Round-the-clock, our minds think of increasing the sales numbers and improving the marketing campaigns. Resultant of which, customers have taken a back seat. Rarely have we showed gratitude to our customers. And this is precisely where the gap lies.
So without further ado, start appreciating your customers. A hand written thank-you note, loyalty program or a bumper discount offer - you have ample options to choose from. Just one word of caution - make this a constant habit and not a one-off approach.
Sounds difficult? But then, aren't you in business because of your customers? So taking this effort consistently is all worth it.
4. Resolve Customer Disputes in genuine
Customer complaints are bad. But things become worse when our attempt to redress the problem is half-hearted.
According to a research by Consumer Community Forum – in 7 out of 10 situations, businesses resolve customer complaints because they have to and not because they want to. Customers easily sense this hypocrisy and develop a negative perception about the business. They discontinue with the business on an aggravated note and share this experience with dozens.
To ensure that this does not happen to you – make sure that your team makes a genuine effort to resolve the customers grievances.
Tip: Introduce 'customer service' as one of your business's core values. Hang the list of customer service principles at every desk. Conduct training sessions with the team to ensure that they understand these ideals and practice them while dealing with the customers.
5. Know your Customers
Great interactions begin when both the parties know each other completely. Now while the customers know thoroughly about your business, it is your turn to learn more about your customers. Only knowing your customers' previous purchases will not do. Use the CRM to get a 360-degree view of your customers. This includes, their names, demographics, previous conversations, sent marketing collaterals and so on.
Do I need to say how knowing all these details will make you better in dealing with your customers? Obviously, you will be able to offer a more personalized service. And customers love personalization in every way!!!
Final Thoughts
A recent survey has stated two compelling facts:
86% of consumers are willing to pay more for a better customer experience
73% of consumers develop loyalty for a brand based on the type of customer service provided.
So it is proven that delivering a great customer service holds great value. Not only does it helps a business retain existing customers but simultaneously gain new ones. Now it is up to you how well do you capitalize upon these facts.
Do you wish to remain lost in the chaos of running your business and let customers slip away from your hands?
Or
Implement the above-mentioned five steps and deliver a superb customer service that shoots up your revenue figure.
Tell us your answers below:
Patricia is a full-time CRM consultant at ConvergeHub and part-time blogger. She has earned herself quite a fame as a specialist and a market expert in small business CRM software platforms. In the last five years, she has worked with various entrepreneurs to help them move their businesses to cloud. Her expertise lies in offering cloud based...