Tips and Tricks to answer the toughest Sales questions of your Prospects
Handling questions of the prospects is the toughest challenge for any sales agent. How these questions are handled make or break the sale.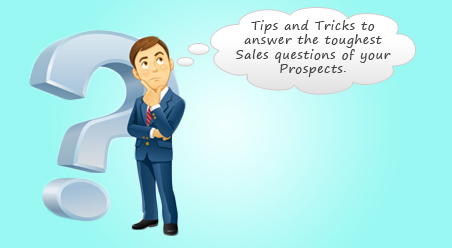 According to Sales Metrics:
56% of sales do not happen because of the inability of the sales agents to answer the prospects' queries. Shocking stats? Actually not.
In every sales meeting and presentation, sales agents are bombarded with questions from the prospects. And the tragedy is that most of these questions are hostile, pointed and negative.
For instance, if I simply ask, "Which sales question is the toughest to answer?" There will be a never-ending list of queries that will keep pouring in. So the fact is that there is a volley of tough questions that awaits the sales agent on every client interaction.
Why do sales agents struggle to answer prospects?
According to experts, the toughest sales questions are asked at the initial stages of the sales process. And this is exactly where the problem lies. Because in the initial stages of the sales process, the sales agent is trying to develop a rapport with the prospect. Sudden drop of a large, open-ended query makes their blood run cold.
Result: A poor sales pitch that sounds hollow and canned to the prospect.
Interesting Stats:
In 8 out of 10 cases, sales agents fumble at prospects' cross-questioning and provide a revised version of the elevator pitch that their managers have taught them. Obviously, the word 'sales' goes out of picture.
What is the resolution to this problem?
The ideal way to answer sales questions is by making 'prospects' as the base of the answer than the products and services. However, this is easier said than done. Because not to forget that at the initial sales stage, sales agents don't know enough about the prospects to make them the base of their answer.
So does that mean, there is no solution to this problem? Is the sales agent supposed to maintain silence and just wait to get knocked down by the prospect.
The answer is No! (thankfully)
Below listed are 6 tips for answering the toughest sales questions of the prospects. Take a look -
1. Prepare in advance:
This is the first basic tip. While it is impossible to predict the kind of questions prospects can come up with, there are some fundamental ones that is commonly asked by all. Here is that list:
How will the product/service help me expand my business?
How will it help me become more effective and/or more efficient?
How will it help increase the overall profitability of my business?
How will the product/service help in increasing the satisfaction rate of my customers?
Will it increase the quality of my own product/service?
What kind of after-sales support can I expect? Will I get assistance in implementing the product/service across my organization? Will you take care of all the change issues?
These questions are important and spring up, irrespective of what you are selling. The best way of being able to answer them is through a personalized reply. I know that you might not have a profound knowledge of the prospect at this point and so you may not be able to answer all these questions, but the more you can answer, the more better your chances will be. Right?
So instead of going completely blank to meet the prospect, use the little but substantial information that is recorded in your Sales CRM software.
Go through the CRM data and try to gain maximum knowledge about his businesses, markets, customers, opportunities, strategies and priorities. Go through the interactions that he has had earlier with your marketing agents. Together all these information will help you create moderately engaging conversation with your prospect.
2. Stay Cool:
Most of the questions that prospects throw at you will be hostile and often reflect a negative agenda. In experts' opinion, often prospects intentionally try and put the sales agent in a fix, by asking these questions. However, reacting to them in a volatile manner can get you off your game.
So maintain your composure and be rational in your approach. Analyze the question and frame an answer that moves the sale forward and keeps the conversation positive.
3. Use Humor to lighten up the Situation:
Although it is not a novel approach, but it surely stands the test of time. Because. we all know how humor heals bruised egos. So when you feel that the situation has become intense, there is no better weapon than self-effacing humor. Answer your prospects with a humorous punch that makes them laugh and brings them on the same playing field.
John Lee Cater comments –
''Often it is unfortunate of sales agents to meet the prospects when they are having a bad day and are racked with stress. In such situations unknowingly, prospects become very difficult to deal with. Maintaining the garb of kindness and humor throughout the conversation helps to defuse tension. After all, prospects cannot remain hostile for long when sales agents are being so nice.''
4. Let the Prospect take Passive Control:
One of the major blunders committed by sales agents is the attempt to control the entire conversation. Remember, prospect is the decision-maker. So shift to the back seat and let him come forward and drive the conversation. This may not always sit well with you, but then can be worth your while to close a sale.
Tip:
Encourage prospects to ask more open-ended questions. This will show that you are not fearing them and and are upright in talking about every facet of the product/service. Prospects will develop trust within you and come at least half way. Great isn't it?
5. Do not Skip any Question:
It is famously said that skipping questions in sales is like inviting death. Because similar to politicians who are judged on the basis of each and every question, sales agents are also measured in totality of the questions asked and answered. This means avoiding any question during the conversation, immediately rings an alarm bell within the minds of the prospects.
Tip:
On tough sales questions that lack good answers, acknowledge the question to show that you respect the viewpoint of the prospect. Promise to discuss on the matter with your team and revert immediately.
6. Avoid Filler Words Altogether:
Filler words refer to the phrases we use to fill up our statements in between. Common ones are – Ah and Ums, These phrases are looked down upon in any official meeting and conversation. So using these words while speaking with the prospect is a strict no for you. They will not serve any purpose and to the contrary will make the prospects feel distracted.
Tip:
While there are a couple of ideas that can help, making notes of what exactly you want to say in the meeting can be the most effective way out. Do not worry. You do not have to do much. Use CRM and note down the to-be discussed pointers of the meeting there. As you speak, keep referring to the CRM. This will prevent you to take awkward pauses and maintain a smooth fluidity throughout the conversation.
These are a few of the points that can help you sail through the toughest sales questions of your prospects and present your offerings in a compelling manner.
Have I missed any? Share your points below -
Patricia is a full-time CRM consultant at ConvergeHub and part-time blogger. She has earned herself quite a fame as a specialist and a market expert in small business CRM software platforms. In the last five years, she has worked with various entrepreneurs to help them move their businesses to cloud. Her expertise lies in offering cloud based...