What is your Customer Service strategy? (For not this week or year, but just TODAY)
Doing long-term planning for improving your customer service is not enough!
Surprised? Shocked? Agree? Disagree? Well, before you reach any conclusion or start a counter-argument – read what compels me to make such a BOLD statement like this: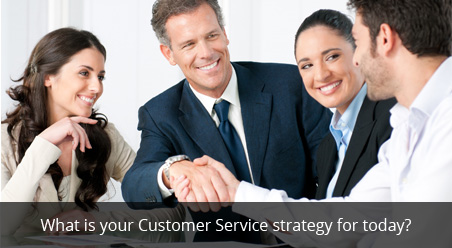 One day -
Checking out the latest apparel trends displayed in the several stores at the shopping mall, I overheard a wonderful conversation – a mother trying to persuade her angry five-year old daughter, why having ice-cream at the food court was not a good idea.
You might wonder nothing new about it! Children are like that. But to think of it in a deeper way – what makes children have frequent meltdowns?
That is because they focus on their immediate needs and are not shy of communicating these needs clearly to their parents or anyone else around.
This brings us to the question –
What if we incorporate this childlike mindset into our business? What impact will it create? Will the business go up or fall like a pack of cards?
Research Data Suggests:
According to a research conducted in one of the business institutes in UK, often business owners are so caught up in planning their long-term goals, that immediate opportunities get lost in the process. Much of the adult wisdom is invested on thinking about the future than working upon the present. This isn't clearly a bad strategy. However, excessively thinking about the future with no focus on the present, surely limits the scope for any business to succeed.
Example -
In the pursuit of attaining complete customer satisfaction, John Perry (SMB owner) installed CRM software solution. His objective was to:
Use the CRM to know the customers better
Identify the elements that customers will demand in the future
Start their planning from now onwards.
So when one of his old customers pointed towards the need of a mobile app in the future, John immediately jumped into it and made his development team start working upon the mobile app.
What was the Outcome?
Not up to the desired mark. A 50% success is what you can say.
That is because the need of a mobile application was voiced out for the future – something that John's team was required to provide in the next couple of years or so.
But what about the immediate needs that John's customers had? Who took note of them?
For John, the turning point happened when he realized that he knew much less about the needs of his customers than he thought. All through this while, his focus had only been on meeting the long-term requirements of the customers, due to which the immediate customer requirements were falling through the cracks.
John realized:
To reap the benefits of the long-term planning, he need to retain the present customers and take them to the future, and this can only happen if he caters to their immediate needs first.
Think Yourself:
What is the point of investing time and money on customers' future demands when you are unable to cater to their present needs?
Will your negligence of their present needs encourage them to stick with you for long to gain the benefit of your future planning?
Certainly not.
What is the ideal way to attain 100% Customer Satisfaction?
A balance between present and future planning!
Just like John who attained the unachievable goal of 100% customer satisfaction when he began to look at customer feedback/interactions in a more holistic fashion—in similar terms, you need to use the CRM to:
Gather, consolidate and analyze customer interactions and feedbacks
Identify the immediate and future customer needs
Devise your present and long-term strategy accordingly.
Here's a tip
– Every morning, make it a practice to sit with your team, check the CRM metrics and ask questions like:
What about today?
How can we fully optimize the day?
What can we implement now to increase customer satisfaction rate?
At the end of the day, ask yourself:
What did you accomplish today?
Side note:
Record the details in the CRM daily. On regular intervals, use the CRM to review the changes happened. Realign your strategy (if required) and ensure that it does not gets sidetracked.
How will you benefit out of this?
Planning on the basis of these questions will blend the innocence of childhood with the knowledge and wisdom of adulthood. As a business owner you will be more focused on:
'What you can do now for your customers instead of what you can do one year later for them.'
And needless to say - the impact of this changed approach will instantaneously reflect on your customer satisfaction metrics.
Customers will immediately get to experience the benefits that you are providing to them. The wait for a better service will no longer exist. Every new day – your customers will find some improvisations done based on their demands. Imagine how effective will that be?
The journey to your business growth will be accelerated. Although both you and your competitors will be using CRM, the difference will be crystal clear. Others will be using CRM and planning to improve their service in the future, while you would be nimble and quick enough to use the CRM and show immediate improvements in your customer service.
So without any ado, go ahead and implement this SECRET strategy. You never know what great benefits you will stumble upon.
And do not forget to share your experience below. We would love to know how effectively is this strategy working for you?
Patricia is a full-time CRM consultant at ConvergeHub and part-time blogger. She has earned herself quite a fame as a specialist and a market expert in small business CRM software platforms. In the last five years, she has worked with various entrepreneurs to help them move their businesses to cloud. Her expertise lies in offering cloud based...